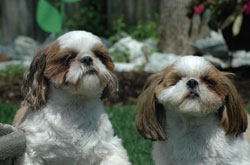 Reservations - We book reservations three months ahead of schedule (i.e. we begin to accept reservations in the month of January for the month of April, February for reservations in May, etc.)
Peak times (school/legal holidays and summer) book up especially fast, so please call at your earliest convenience to make your reservations.

At the time of reservation, we require a non-refundable/non-transferable reservation fee. This fee will be applied to your pet's visit; however, it is non-refundable and non-transferable in the event of cancellation. Also please note that during peak times, if you must cancel your reservation or alter your dates, you must do so within 10 business days to allow us ample time to re-organize our scheduling or you will be billed for the entire stay that you have reserved.

About Kennel Registration - Check in and departure is Monday through Friday (10 AM - 3 PM) and on Saturdays (11 AM - 3 PM).

Your pet will be inspected in your presence by one of our attendants for parasites, fleas or any other skin irritations or abrasions that it may have at the time of registration. If your pet is found to be harboring fleas, a flea bath will be given before it enters the living quarters. The cost of this bath will appear on your bill at the time of departure. We accept cash and Master Card and Visa.

We Welcome You to Tour Our Facilities.
Monday-Friday - 10am-3pm
Saturday - 11am-3pm

Give us a call 631-567-7617
Cozy Noses Kennel Policies
Cozy Noses kennel policies were created to protect both you and your special friend as well as the others that will be staying with us.

Prior to Kennel Registration - To help us ensure that your pet's stay is both pleasant and healthy, proof of the following vaccines is required prior to boarding:
Dogs:
Rabies
Distemper
Bordetella **(Canine cough preventative)

Proof of vaccinations may be in the form of a computer printout from your veterinarian or on a letterhead receipt showing that your pet has received the required vaccinations within the last year.

For the Bordetella vaccine to be fully effective, it must be administered no less than 10-14 days prior to boarding. If intranasal Bordetella is administered, a 6 month booster will be required.



Exceptions - Although we try to accommodate everyone, we regret that Cozy Noses cannot accept any pet under the age of 6 months since the required vaccinations will not yet have been administered. This is for the protection of both your puppy or kitten and our other guests. We may also refuse to register an overly aggressive dog or an elderly pet, which in our opinion would be better taken care of by a veterinarian.



Upon Check Out - Cozy Noses wants your pets transition back home to be a pleasant one. We suggest that you wait one hour before feeding your pet and limit his/her intake of water since the excitement of seeing you, combined with eating or drinking, could cause them to develop an upset stomach.